ABOUT US
Welcome to Spiritual Surf Wear and Godpowertees.com, a collection of spiritual t shirts.  FEEL THE FORCE, EXPERIENCE THE BEAUTY, THE LIVING FORCE WITHIN us!     
THE STORY BEHIND THE NAME:  Inspired By God is the main company of God Power Tees and Spiritual Surf Wear, along with Cards Inspired By God. Theopneusto is the greek word meaning "And God Breathed".
Inspired By God is the name "God Breathed"  on this company, as I sat looking at my computer in adobe illustrator in the year 2002. I asked God what I should call this, which was just 2 paintings and an idea to make greeting cards from them, (read; I heard God speak). Within 5 minutes I saw the name of the company and within 1 hour I had made the logo that still stands today; Inspired By God, Inc.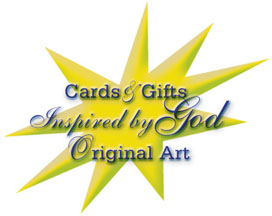 About 5 years ago as I was searching for answers. My mind was taken to the wind and the verse in the Bible about the wind, I was taken somehow to the Greek word, theopneustos and spent some time on it's origins. It has been written that the apostle Paul was the first to coin the phrase which literally means "God Breathed". Inspire means to take in breath and that is exactly what happens to us when we hear, see or feel God's presence in and over our lives. God is Holy Spirit and one of the ways it is described:
"The wind blows where it wishes, and you hear its sound, but you do not know where it comes from or where it goes. So it is with everyone who is born of the Spirit." John 3:8


I saw GodPower tees walking down the beach all alone in the year, 2005. It was 3 months after this company sat for 4 years, because I refused to give up the life I was living. Sometimes when we know a way in which we should go, we don't, simply because we may have to give up others and things that are comfortable or whatever reason. I could not stand that I was no longer part of what God had shown me for my life, so one day I really surrendered ALL of my life to The Lord, meaning I said: What ever it is that is holding me back from what I saw for me to do, Please remove it! I had already removed the people and things that needed to be removed but I didn't remove them from my inner self and so I was blocking Divine Creation within myself. It was magically removed and so I was moved forward and this company was newly formed for the internet, (of which I entered kicking and screaming because it just seemed like too much!)
I have found when we try to be with Divine Creation we become part of an ebb and flow.
I have found when we try to be with Divine Creation we become part of an ebb and flow. Before that can happen we have to have enough faith (about the size of a tiny mustard seed, which grows into the largest of spice trees) but it has to be real and trusting faith-no hope fors and all that. One more thing I discovered, no matter how much I thought I let go of, I didn't. God shows us our heart, our being, our soul, if we're brave enough to face ourselves, we get to see the great Creator's Spirit move in us and all around our lives and others. I wasn't. So when I finally did and it was truly miraculous because I gave whatever was holding me back completely to God and realized how little control I actually had. God took over with all I gave up and  God Power tees was born in the year 2005.
It was an idea that was  not even formed but first fabricated on a website and by 2006 was real. A friend who writes poetry on cardsinspiredbyGod.com and who also has a life story that is book worthy as he has faced death as many times as a cat has lives, spends all of his days in a wheel chair with optimism. It is probably because he has seen and sat with Christ. Christ sat on a log and Bill, my friend's name, sat on a rock and the next thing you know Bill is back in his hospital bed. In my neighborhood I used to roller blade past Bill and we made friends. God Power tees was named after Bill and I giving each other the high five and saying God Power". One day I said, "Bill, what should we call the new apparel line, and we both said "God Power" and I said, "But how do we explain what it is and Bill said, "The Living Force Within". The line consisted of 6 pieces of art called "wave" after the ocean, that were silk screened on 100% cotton American and South American assorted t shirts and tanks for guys and girls.
Spiritual Surf Wear was conceived by the same love of the ocean and this beautiful earth given to us from God Almighty. I realized one day how God had even put the Angels under us and that the job of them is to serve and protect us based on the Will of The Lord. The collection of art for this line is the Warriors, Arch Angels, Michael, Gabriel and Raphael, Wisdom and God Almighty, El Shaddai. It is called the Genesis Collection.
 "Put on the whole armor of God, that you may be able to stand against the wiles of the evil." Ephesians 6:11
The goal of Godpowertees.com, SpiritualSurfwear.com and Cardsinspiredbygod.com is to give one third of all proceeds to benefit those in need, including disaster relief, and to take care of all people, especially our children everywhere,  to live in freedom. We currently give 10%.
We are currently helping:
The World Food Programme
We help with college ministries and The Christian Surf Rider foundations. We are a member of Bread For The World. We get involved with helping All to live in Freedom in this world . We will be glad to add help to our list- Contact Us

Love & Peace
2015
Inspired by God Inc.
954.316.7635
Pompano Beach, Florida
 G   O       T    R    U    S    T      L    I    V    E
We would like to thank God in Christ Jesus, Amen. Special thank you's go out to Dana, all love, XXOOO, the folks, Marylou and Tony for always being there, Pam just cause she's my sis, and her family, Dan, hi Danielle and Jason, Eric for helping to get me out of my way, Sue for believing and her web skills, Ann, who is there for us, special thanks to Wesley for being the web builder we needed, and to AIFL., our models, Dana, Ryan, Mat and Micheal, Scott who was there at the start, XO, Manny and all the wonderful guys at Art Craft for perfect work, Gosselyn Graphics, for amazing printing! Color Lab who gets me on my way, and Crystal Image, most wonderful thanks to, my friends at Select, Mickey, Michael, and Nester for their beautiful silkscreening, Rosalyn for reawakening, Patrick for posing and looking good, Rikki, for all the walks and talks, Bob for all his help, God Bless!, all my fabulous friends, including Elizabeth for helping keep faith and Dawn, for delivering the eggs to the seven dwarfs, and Greg for the calm after the storms, family, businesses and neighbors who provided much Love for the paintings, XXX. Everyone I have met who helped get this company off in the beginning for buying cards and tees, and seeing the paintings, Picture Perfect, St. Gregory and St. Bernard and Good News who showed up for the Art to be on display, all XXXXXXX's and many blessings to you all, Bill, for being a poet and Temparest, all the businesses who bought cards and tees and all those who received them. We have a new video and would like to express sincere graditude to God ,and Carolina at Colia studios for her video expertise and our wonderful stars in the video, Dana, Alicia, Carlos, Lisa, Brian, Joey, Danielle and Jason! And, to our wonderful New stars!; Kaitlan, Susie, Analis, Jeff and Jeremiah for looking beautiful! My Dana for her editing expertise! Everything about this company would be nothing without all of them, and Jerel, X                          Love, Peace and Joy to each of you.
A very Special Thank you to Rick Yontz for his wp expertise and design work as I was unable to get this website finished and up without him!
And Always! My super tech creative; Carolina Arias x who shows her pro in our videos and presentations. Thank you!!